About Us
About the Company
Four Seasons Flowers & Gifts is committed to quality and service. We choose only the freshest, highest quality flowers and our shop has a professional caring staff to serve all your floral needs. Your gift will arrive beautifully presented and personalized with your message.
Need help with a Special Event?
Barbara Gingerich has a 30 year professional career in the retail floral business. She started working at her family owned Rainbow Florists in Waterloo, Iowa. Barbara later moved to Denver, Colorado and managed a shop for Lehrer's Flowers. She has worked and managed several local Sun City area flower shops until purchasing Four Seasons Flowers four years ago. The shop is staffed by lead designers who have been acclaimed as the best professional designers in Phoenix area design competitions.
If you are in the Phoenix vicinity, or from outside of the area, Barbara and the staff at Four Seasons Flowers & Gifts appreciate the opportunity to service your floral needs.
Thank you for using Four Seasons Flowers & Gifts.
October 18, 2019
The Arizona Retailers Association honored Four Seasons Flowers & Gifts as the Retailer Of The Year for Legislative District 20 in the state of Arizona.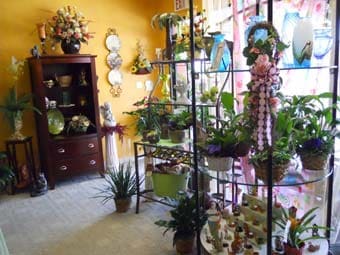 Four Seasons Flowers & Gifts
6630 W. Cactus Rd. Ste. B104
Glendale,AZ 85304
---
Additional Information:
Our shop is open from 8:00 AM - 4:00 PM Monday through Friday, and from 8:00 AM to 1:00 PM on Saturday. Closed Sundays To help assure on-time delivery during the busy holiday season, place your order at least 1 day prior to the following major holidays: Thanksgiving Day, Christmas Day, New Year's Day, Valentine's Day, Easter, Administrative Professionals Week, Mother's Day, Memorial Day, Father's Day, Independence Day and Labor Day. Our shop will always be closed on the following holidays: New Year's Day, Christmas, Thanksgiving, Memorial Day, Independence Day and Labor Day.
Specialty Services
We specialize in the following services:
Large inventory of fresh flowers
Tropicals
Plants
European/dish gardens
Contemporary and traditional arrangements
High-style floral arrangements
Silk arrangements
Dried floral arrangements
Weddings
Funeral designs
Extensive gift line
Gourmet and fruit baskets
Gift baskets
Greeting cards
Candles
Areas Served
Our shop serves the following areas in Arizona:
Glendale,AZ - Arrowhead Ranch,AZ -Peoria,AZ - Sun City,AZ - Sun City West,AZ - Sun City Grand,AZ - Surprise,AZ - El Mirage,AZ - Northwest,AZ - North Central Phoenix,AZ - Northwest Phoenix,AZ and Litchfield Park.AZ
We also deliver to the following facilities
A L Moore-Grimshaw
A-1 Guest Lodge
Abel Funeral Service
Adagio House
Adobe Chapel Funeral Home
Adobe Residential Care Center
Advantage Funeral & Cremation
Advantage Funeral Home
Advantage Urgent Care
Ahwatukee Adult Care II
Ahwatukee Adult Care III
Aire Libre Mobile Home Park
Alert Adult Care, Inc.
All Care Cremation
Alzheimer Homes Of Arizona
Angel View Adult Care Home
Apollo Mobile Home Park
Arbor At Olive Grove
Arbors Of Phoenix
Arcadia Adult Care
Arcadia Estate Adult Living
Arizona Eastern Star Center
Arizona Hospital & Healthcare
Arizona Lutheran Retirement
Arizona State Hospital
Arizona State Veteran Home
Arizona Surgical Hospital
Arizona Traditions-Community
Arrowhead Community Hospital
Arrowhead Memorial Gardens
Assisted Living Consultants
Az Heart Hospital
Baldwin House
Banner Boswell Medical Center
Banner Estrella Medical Center
Banner Health Arizona
Banner Thunderbird
Banner Thunderbird Medical Ctr
Baptist Hospital & Health
Baptist Hospitals & Health
Baptist Village
Baptist Village North East
Baptist Village-Paradise Vly
Baptist Village-Sun Ridge
Barrington Suites
Barrow Neurological Institute
Beatitudes Campus Of Care
Bell Acres Mobile Home Park
Best Funeral Service & Chapel
Best Funeral Svc & Chapel
Bethany Glen Apartments
Bethesda Gardens Assisted
Bloom Mortuary
Blue Sky Mobile Estates Sales
Boswell Extended Care Ctr
Boswell Hospital
Botimer Funeral Home
Boulder Ridge
Brians Center
Brighton Gardens
Broadway House
Broadway Terrace Apartments
Brook Hollow Apartments
Burkeshire Retirement Hotel
Camelback Sunset Funeral Home
Camino Del Sol Funeral Chapel
Capri Mobile Home Park Assoc
Carillons Retirement Community
Casa Blanca Apartments
Casa De Primavera
Casa Del Rio
Casa Del Sol Resorts
Central Park
Chaparral Winds Retirement
Chapel Of The Chimes Mortuary
Chris Ridge Health Village
Chris Ridge Village Apartment
Christian Care Assisted Living
Christian Care Manor 1
Christian Care Manor III
Christian Care Nursing Ctr
Christian Care Retirement Apts
Classic Residence
Community Skilled Nursing
Concentra Medical Ctr
Coronado Care Ctr
Country Cottage Care Home
Country Manor
Country View Estates
Cowden Center
Cplc Villas
Del E Webb Extended Care
Del E Webb Memorial Hospital
Desert Amethyst
Desert Haven Nursing Ctr
Desert Sky Health & Rehab
Desert Terrace Nursing Home
Desert Winds Retirement Comm
Dessert Springs Care Home Inc
Downtown Medical
East Whitton Manor
El Dorado Of Sun City
Encanto Palms Assisted Living
Encore Senior Village
Encore Senior Village-Peoria
Epoch Assisted Living
Esperanza Manor
Esters Care Ctr
Evergreen Sun City Health
Eye Institute Of Boswell
Family Home & Health Care
Family Home Care
Family Home East
Fellowship Manor
Fiesta Village Supervisory Ctr
Fillmore Apartments
Fletcher Heights Assisted Lvng
Foothills Manor
Forum At Desert Harbor
Foundation For Senior Living
Freedom Manor
Freedom Plaza Care Ctr
Freedom Plaza Retirement
Gables International Group Inc
Glencroft Retirement Community
Glendale Care Center
Golden Autumn Adult Care Home
Golden Days
Golden Pond Tender Loving Care
Golden Years Inc
Good Samaritan Medical Ctr
Good Samaritan Surgicenter
Good Shepherd Retirement
Grand Court Phoenix
Grand Missouri Mobile Home
Grandview Terrace
Green Acres Glendale Mortuary
Greenwood Memory Lawn Mortuary
Greer-Wilson Funeral Home Inc
Hacienda Del Rio Apartments
Hansen Mortuaries
Happy Trails RV Resort
Healthsouth Valley Of The Sun
Hearthstone Of Sun City
Heather Glen Care Center
Helping Hand Residential Care
Herberger Silvercrest
Heritage Funeral Chapel
Heritage Palmeras
Heritage Park Homeowners Assoc
Heritage Regency
Heritage Tradition
Highland Manor Nursing Home
Hong Ning House Of Phoenix
Humane Services For Humanity
Immanuel Campus Of Care
Inn At Amethyst Assisted
Inn At Freedom Plaza
Jackson & Son Dormitory
Jesse Owens Memorial Urgent
Jmj Home Care
John C Lincoln Health Network
John C Lincoln Hospital
John C Lincoln Hospital -
John C Lincoln Senior Apts
Kachina Place Glendale Senior
Kindred Hospital Phoenix
Kivel Care Ctr
La Paz Funeral Home
La Villita
Lemon Grove Apartments
Life Care Center
Life Care Ctr
Life Care Ctr Of Paradise Vly
Life Care Svc Corp
Longhaven West Mobile Home Pk
Los Ninos Hospital
Lowmans Arizona Funeral Home
Loyalton Assisted Living
Lundberg Mort Whiterose Chapel
Lura Turner Homes Inc
Lynette's Care Home
Madison
Madison Meadows Retirement
Mark Allen Manor
Maryland Gardens Care Ctr
Maryland West Apartments
Maryvale Hospital Medical Ctr
Maryvale Parkway Terrace
Mayo Clinic Hospital
Menke Funeral Home
Mondell House
Montecito Gracious Retirement
Mortensen Kings Funeral Ctr
Mountain Village Homecare
Mountainview Assisted Living
Myrtle Manor Apartment
National Cremation Society
National Homes Trust III Inc
NBA Manistee Manor
Northwest Clinic
Northwest Medical Ctr
Oasis West Apartments
Orange Blossom Manor
Orangewood Retirement Cmnty
Orchid Care Park Home
Osborn Ambulatory Surgical Ctr
Palm Funeral Home
Palm West Mobile Home Park
Paradise Chapel Funeral Home
Paradise Shadows Mobile Home
Paradise Valley Baptist Ctr
Paradise Valley Hospital
Paradise Vally Assisted Living
Park Lee Apartments
Park Place Community
Pearl Quailty Care
Pecan Grove Trailer Park
Pension Professionals
Peppertree Square Assisted
Periman's Supervisory Care Hm
Phoenix Baptist Hosp & Med Ctr
Phoenix Children's Hospital
Phoenix Indian Medical Ctr
Phoenix Manor
Phoenix Memorial Hospital
Phoenix Memorial Park
Phoenix Mountain Nursing Ctr
Pine Towers
Plaza Del Rio Care Ctr
Posada Vallarta Apartments
Preston Funeral Home Inc
Regency Mortuary
Reliance Funeral Service
Resthaven - West Resthaven
Resthaven Park Mortuary
Retirement Community Spec
Rose Terrace Trailer Park
Rosey Homes
Royal Oaks Lifecare Ctr
Rude Family Northwest Mortuary
S C Townhouse Mobile Estates
Salvation Army
Samaritan Funerel Home
Samaritan Surgicenters Of Az
Samaritan Transplant Svc
Sampaguita Adult Care Home
Santa Grande Community
Select Specialty Hospital
Senior Village
Serenity Mortuary Service
Shadow Mountain Mortuary
Shadow Ridge
Sierra Winds Lifecare
Sinai Mortuary
Sonoran Rehabilitation & Care
South Mountain Terrace Apts.
Southwest Village Apartments
Spring Garden Care Center
Squaw Peak Assisted Living
St Luke's Skilled Nursing
St. Joseph's Hospital
St. Joseph's Hospital and
Sterling House
Stewart Foster Care Home
Stratford
Sun America Retirement Markets
Sun Bridge Estrella Care
Sun City Grand
Sun Crest Health Care
Sun Grove Resort Village
Sun Grove Village Care Ctr
Sun Health Care Ctr
Sun Health Grandview Care
Sun Health Hospice
Sun Health Residence Care
Sun Valley Lodge
Sun West Nursing & Rehab
Sun Wood Apartments
Sunland Mortuary & Memorial
Sunland Terrace Ltd.
Sunnyslope Manor
Sunshine Village
Sunwest Funeral Home
Surgery Center Of Peoria
Surgicenter
Tanner Gardens
Tanner Properties
Tanner Terrace For The Elderly
Tel-Med-Phoenix Baptist Hosp.
Terraces At Squaw Peak
Thunderbird Retirement Resort
Thunderbird Samaritan
TLC Adult Home
Triple T Mobile Home Park
Union Hills Surgi-Center
Universal Memorial Center
Universal Sunset Funeral Home
University Medical Ctr Trnsplt
US Veterans Medical Center
Valley Oasis Adult Care Home
Vandermeyer House
Village Oaks At Glendale
Visiting Angels Living Asstnc
Vista De La Montana Beauty
Vista Del Rio Marketing
Waymark Gardens
Westwood Mobile Home Park
Whitey & Murphy Funeral Home
Whitney & Murphy Arcadia
Wooddale Village Retirement
Woodmark At Sun City
Payment Options
We accept the following payment methods:
Visa
MasterCard
Discover Network
American Express

Contact Information
If you have any questions or need more information, please contact us by calling our shop @ 800-434-2740. We're always here to serve and make your flower purchasing experience a pleasure.

Four Seasons Flowers & Gifts
6630 W. Cactus RD Ste. B-104
Glendale, AZ 85304
Delivery Policy
A local delivery fee of $11.95 will be added to each order, for each address. (For deliveries outside our local delivery area, this fee may vary.)

U.S. orders must be received before 1:00 p.m. in the recipient's time zone to assure same-day delivery. Orders received after that time will be delivered the following day.

We will do our best to accommodate deliveries at specific times of day, but we cannot guarantee it.

We are unable to make deliveries on Sundays. Deliveries requested on this day will be delivered the following business day.

Delivery of orders to rural route addresses or cemeteries cannot be guaranteed.

We will be happy to accept your international orders if you call our shop directly. We are unable to accept international orders over the Internet.
Substitution Policy
Occasionally, substitutions may be necessary to create your bouquet due to the availability of certain flowers in various parts of the country. Care is taken to maintain the style, theme and color scheme of the arrangement, using flowers of equal value. Additionally, the substitution of certain keepsake items may be necessary due to increased demand, especially during major holidays. In single-flower arrangements, such as an all rose bouquet, or orchids, we will make every attempt to match the flower type, but may substitute with another color.